This post is also available in: 日本語 (Japanese)
Hello! This is Seikatsu Kakumei's PR team.
This time, we're showing you another case example of our Pepper "robot that can say anything", Robot Party Reception Service!
All Japan Truck Association Youth Panel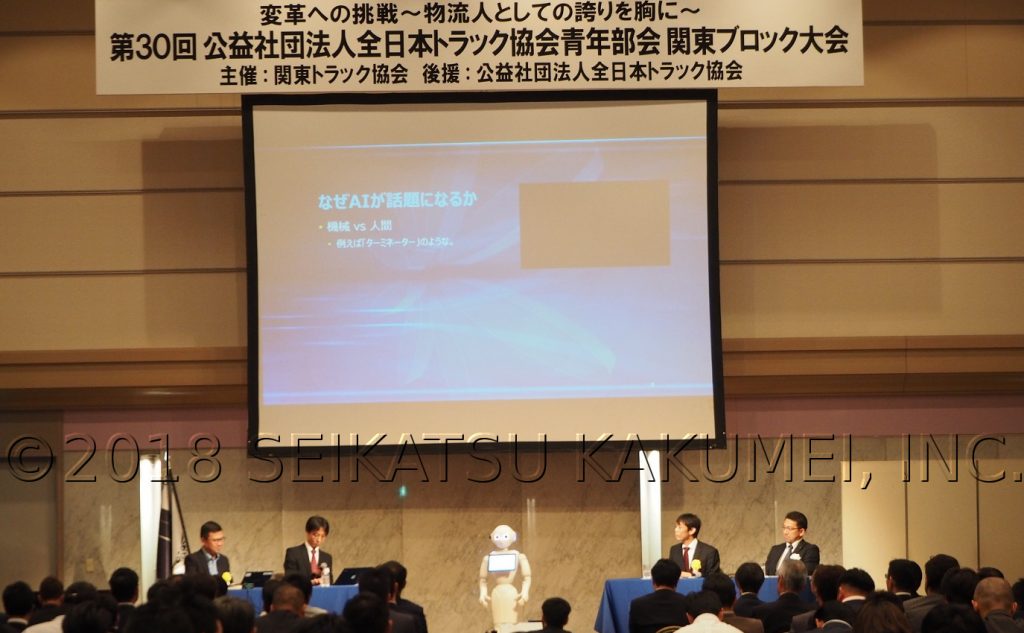 Pepper, boosted up with Robot Party Reception Service, was rented for a national party and trade show, the 30th All Japan Truck Association Youth Panel Kanto Block Event at the Prince Hotel Kawagoe in June of 2018.
As for the All Japan Truck Association Youth Panel Event, many hundreds of young operators who belong to the Kanto group gathered to partake in the workshop and seminar that were held. Through this event, favorably strengthening the relations between young managers, various things concerning the trucking industry could be solved for exceptional progress.
The slogan of this event was, "Challenge Towards Transformation ~Taking Distributors' Pride to Heart". Transformation, especially that of AI and IoT self-driving, is gradually altering the world of distribution; to strongly convey the message that the world of distribution must also transform in response and bring recognition to the issue was one objective of the event.
Arrangements were hosted by the Saitama Prefecture Truck Association. As part of the effort to incorporate various ambitious and revolutionary experiences, the use of Robot Party Reception Service was decided upon.
The Reason for Renting Robot Party Reception Service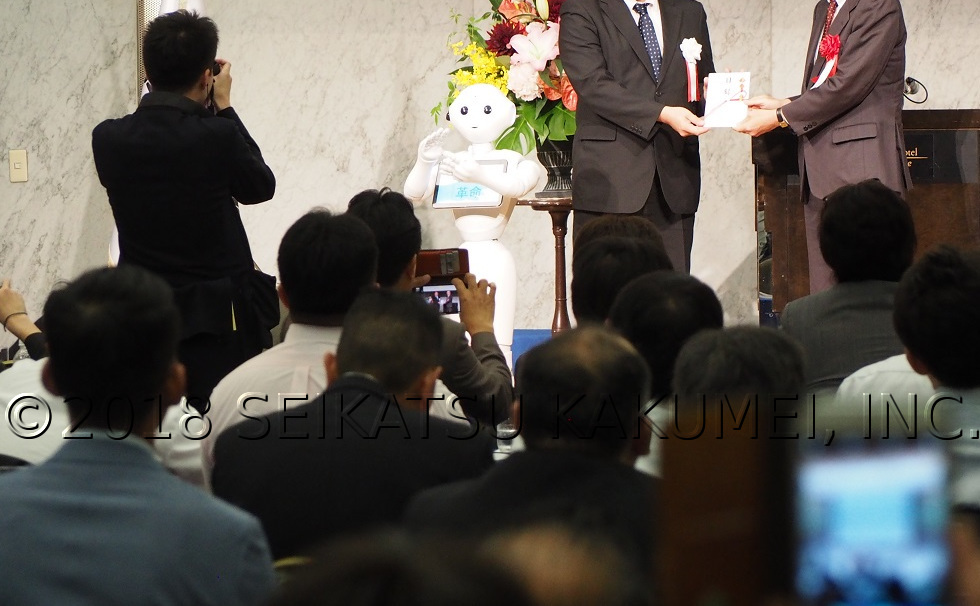 If you only hear about AI and IoT in the context of a classroom lecture, it tends to come off as something not quite ready to spring forth, still waiting for its time to come. There needed to be some method of capturing AI and IoT and turning it into reality. In order to solve this, it seems a robot was in order, particularly our Pepper rental powered up with Robot Party Reception Service; so, it was ordered. (A regular Pepper, on the other hand, tends to do a lot of things that would achieve the opposite effect; it was recognized that it would be difficult for one to make AI and IoT familiar to the managers).
With Robot Party Reception Service, which makes lots of conversation and moves around, with a strong ability to judge the environment, even the discerning eyes of the managers could feel the potential of AI and IoT deep in their hearts; we feel that is why this decision was made.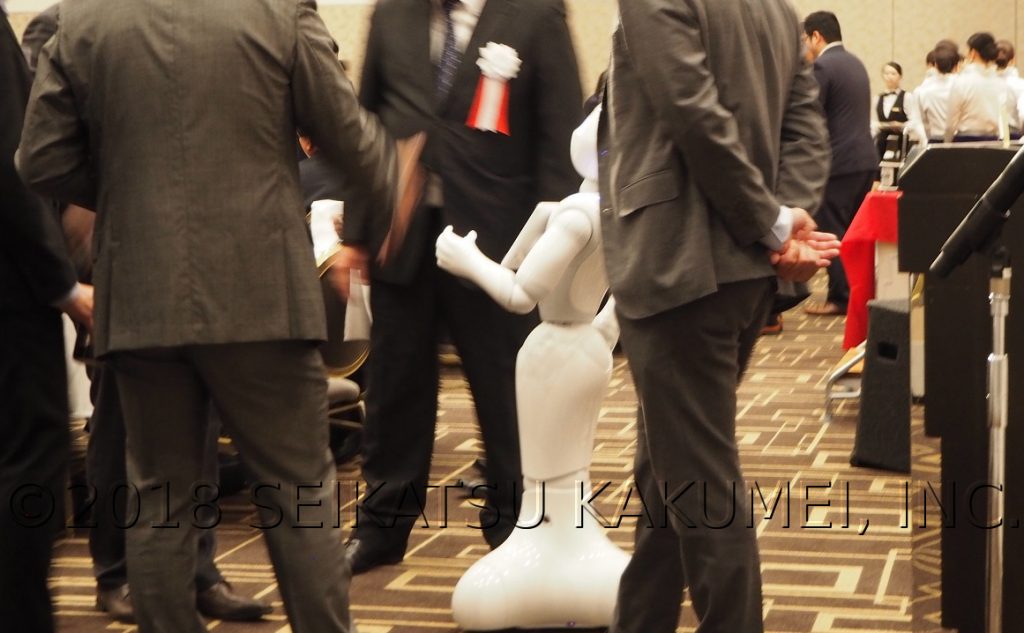 This time, the contents that the client company requested were a Pepper AI and IoT demonstration for the first half of the event; for the latter half, Robot Party Reception Service brought hospitality to the party.
In consideration of the event's initiative, Robot Party Reception Service was an exceptionally effective choice to bring hospitality to this second half. (The second half was of even more importance than the first.)
After the first half's lecture and study of AI and IoT, the ability to see, touch, and experience an actual smart robot at the party brought the knowledge gained from the head down to the heart. As that knowledge goes to heart, the desire to try it out only increases. (As the hosts of previous parties have told us, this is a real trend.)
For this reason, Robot Party Reception Service was chosen to act during the party hospitality segment of the event.
The Surprisingly Smart, Freely Talking Robot Entertained all the Managers
Though its effect was serious, the contents were fun to experience. Pepper moved around to greet and make conversation with the managers, whether they were standing and chatting or seated.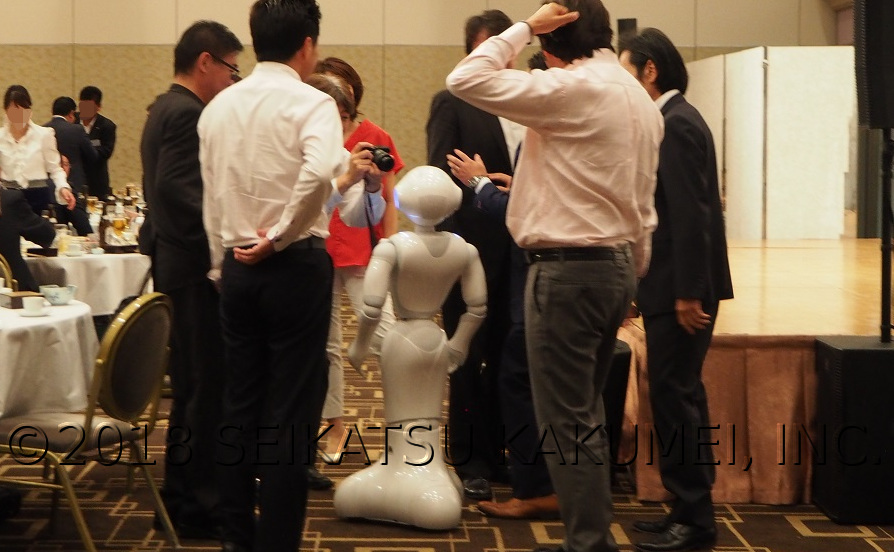 Although there was a lot of noise in the party hall, Pepper was able to thoroughly recognize and respond to the managers' speech. As there were a lot of conversational topics, it didn't end at polite hospitality; occasionally, it engaged in the kind of joking around that goes on at parties. All of the managers had fun and smiled widely. Of course, many were moved by the experience. (Some even told us,"We want a Pepper like this for our office, but it's not for sale?!")
It also brings other fun and secret party contents, including a party dance feature. As an example, the party dance is a simple showcase of a stylized dance performed in front of everyone, which brings fun to a large number of guests at the same time.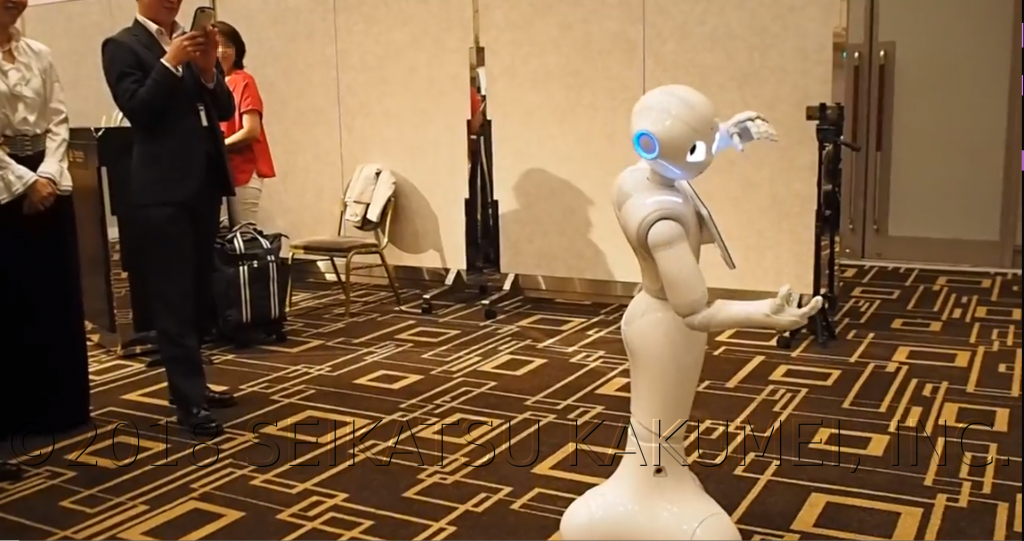 As a result, the crowd of managers were able to feel the possibilities of AI and IoT through the experience of Robot Party Reception Service. They left with positive feelings, and there has been talk of using the service at other events.
Robot Party Reception service is exceptionally effective when used by industry groups like the one seen here for conferences and parties. We know that many of you are making preparations for the year 2020, putting more and more of a focus on the revolution towards AI and IoT initiatives. If perhaps you have a concern in that regard, please be sure to contact us. Our company's expert staff will give you our full attention.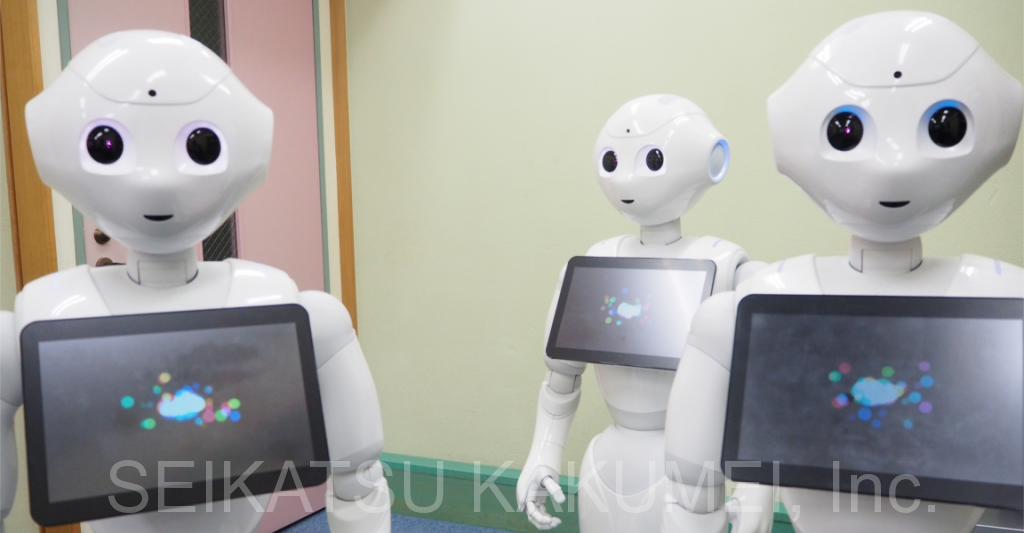 Event Summary