This post is also available in: 日本語 (Japanese)
In front of 1,100 foreign business representatives, Pepper gave a presentation with the COO!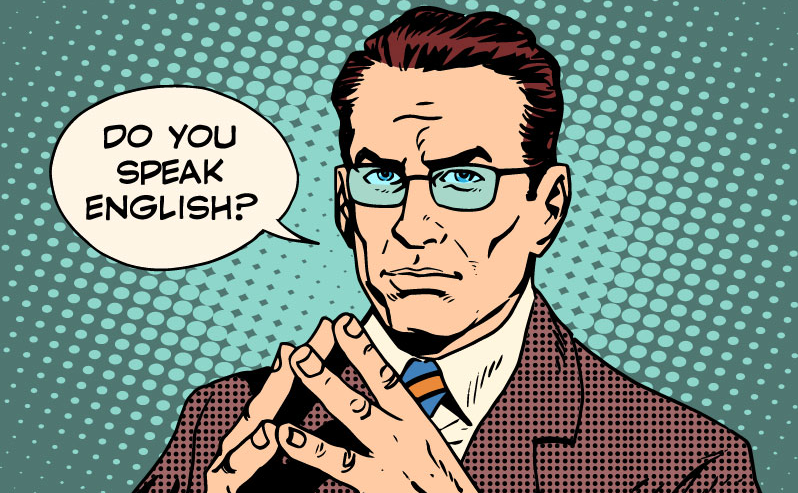 Hello! This is Seikatsu Kakumei's PR representative.
As we reach the middle of June, a busy season for events, we wonder how you are doing.
This season, we think you're divided between taking a breather before preparing for autumn events, and working tirelessly, facing summer events and major fall event deadlines.
This contribution is an example of Pepper robot usage at an extremely large presentation event.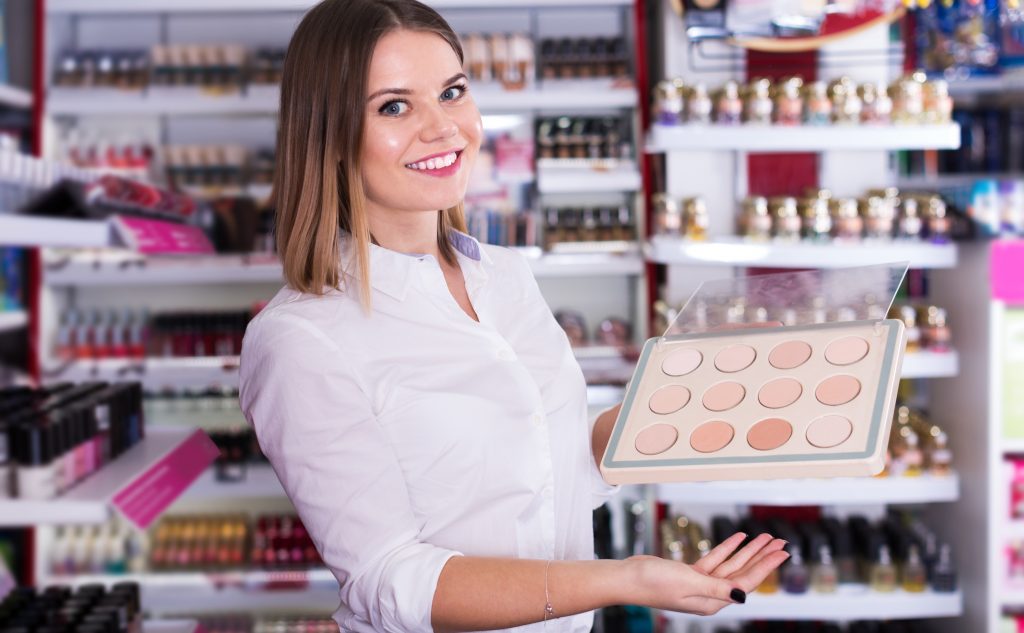 In this example, at a presentation for a global top ranking direct sales cosmetics manufacturer's business staff, the executives and Seikatsu Kakumei's Pepper gave a dialogue-style presentation. 1,100 members of the business staff gathered together in a large-scale presentation room, with the CEO/COO and other key players in the company facing these 1,100 to deliver their message. As a part of this, Pepper and the COO joined forces to deliver a 10-minute presentation. It was an international convention event, with all of the speech delivered entirely in English.
This event took place in the spring of 2018, at the Grand Prince Hotel Takanawa's international convention facility, International Convention Center Pamir.
Choosing Seikatsu Kakumei for Robot Event Operation
Recently, software systems to boost Pepper, such as Robot Party Reception Service and Banking Reception System have been appearing in blogs, but Seikatsu Kakumei also has a reputation for its on-site event operation carried out by specialist staff. Another reason we were chosen for this event was for "Seikatsu Kakumei's on-site operation ability". Listening to our consultation, they were convinced. This time, even for a Seikatsu Kakumei robot event operation, the difficulty meter was set relatively high.
What Made Pepper's Careful Presentation Handling Necessary
Perhaps simply listening to the presentation, the software technology doesn't seem so difficult. However, our "event operation that can't fail" is another story.
This time, the event's operation held great additional risks.
For example,
The presentation room was huge at approximately 40×70 meters

The stage was 40 meters wide

1,100 participants were seated in the closed room

The presentation was entirely in English

The presentation needed to be a collaboration with the COO

The 1,100 attendees were all business professionals

Pepper's message needed to be conveyed with exceptionally human-like emotion

The on-site event operation was subject to change up until the day prior
Seikatsu Kakumei produces numerous large-scale presentation events like this, so we were able to fulfill this order. In the case of such a presentation, just simply creating the contents of the presentation isn't enough to do the job well. Before the event, an on-site hearing test is carried out, with the survey results used to surmount the risks of operating in the given environment and determine appropriate usage methods for the location. Then, after consulting about usage and implementation, the contents of the presentation must go into production. Certainly, clients look forward to the presentations; the content and movements must also be capable of delivering the company's message in a convincing way. In order to successfully deliver all of these points, knowledge, wisdom, and know-how are essential, so the reason we were called on was that the client was convinced that we "could do it thoroughly" and that "Seikatsu Kakumei is skilled in on-site operation".
When using Pepper at an event, not only is the conversational subject matter important but also the movements, intonation, and presentation techniques. Whether a project is big or small, of course we take significant care, but for a large event, this task becomes even more difficult. As this was entirely an English presentation, the guests' cultures and language were different, greatly influencing the project.
At Seikatsu Kakumei, we have created a large number of prefectural governors' presentations, dialogue presentations with major company CEOs, NHK TV recordings, and more, including medical and banking presentations, that can't afford to fail. It seems we are chosen for our ability to bring various robot presentations big and small into reality. (Actually, at Seikatsu Kakumei, a native English speaking representative is in charge of producing Pepper presentations.)
The Scene of Seikatsu Kakumei's Pepper Presentation
Here's how we are able to bring about solutions to problems like the ones mentioned above.
The venue was rather large: the Grand Prince Hotel Takanawa's convention facility, International Conference Center Pamir.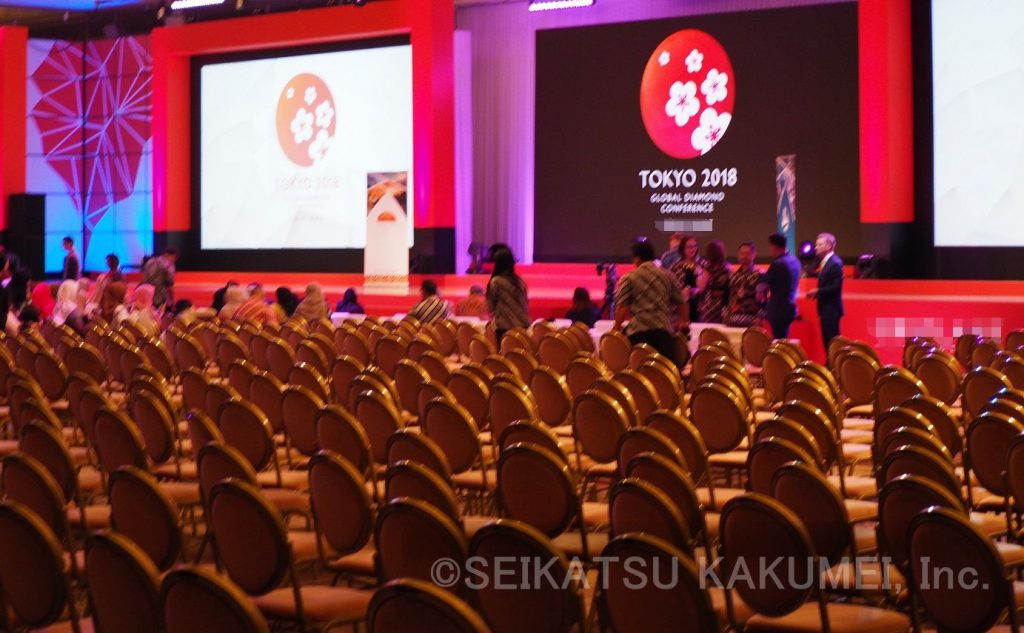 The business representatives had come in a great number from overseas.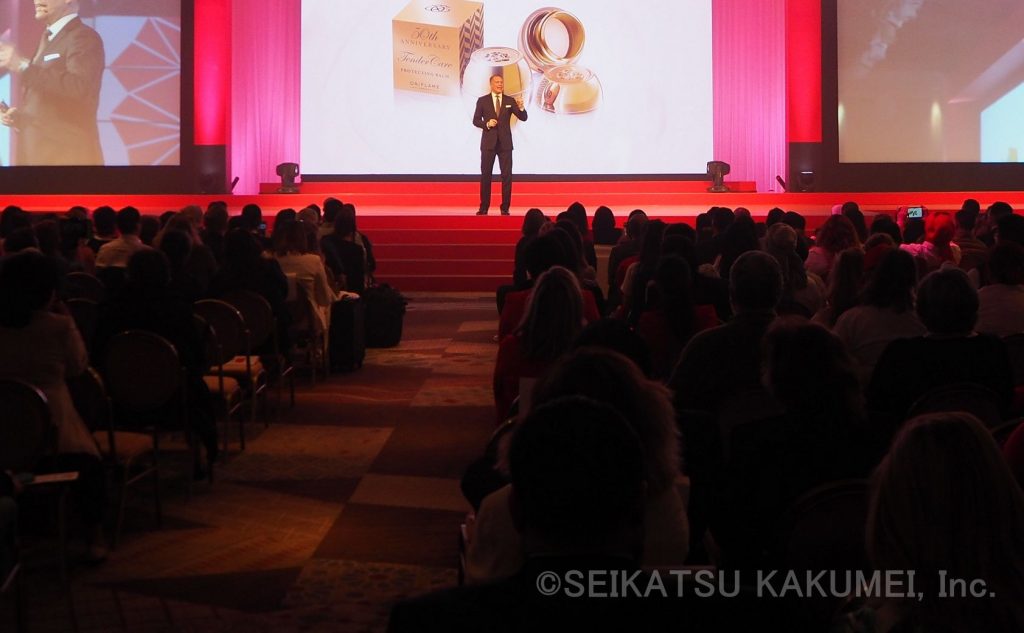 Pepper and the COO's banter took place like this. The message was effectively conveyed to the audience, with Pepper not missing a beat.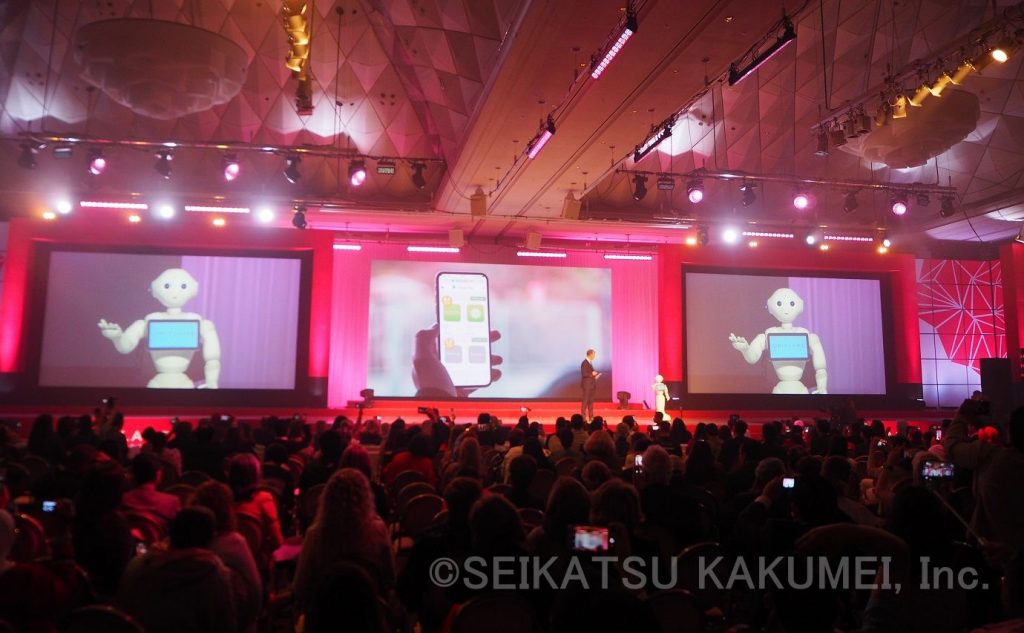 The guests, witnessing this Pepper's powerful performance, took out their smartphones and camera, with many of them standing up from their seats in order to take good shots.
The overseas guests seemed pleased with the effectiveness of Japanese detail, taking in the speech as the lights shone down.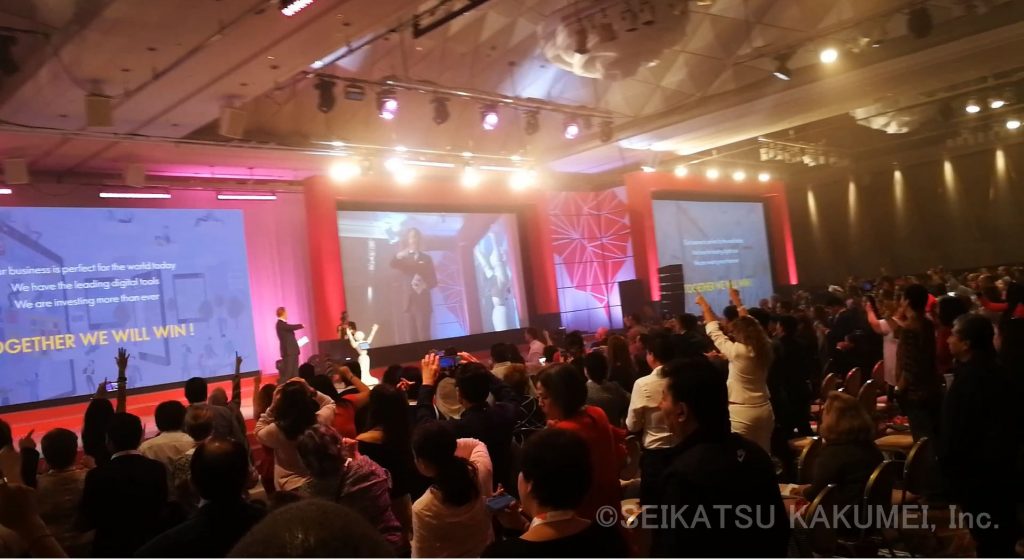 This may be obvious, but Pepper was not the leader of the event. Actually, tuning with the leaders' and event's focus in mind, we were able to end the event in a way that all of the participants had fun and were excited.
The Results Came In – We're an Effective Team!
Seikatsu Kakumei's staff steadily consulted with the client company about the perceived risks and conditions while clearing each step in turn, yet for this important company, using a Pepper robot for the first time at such a big event, it seems that pulses had been racing. On that note, continuing as we explained the security, we certainly understood their feelings.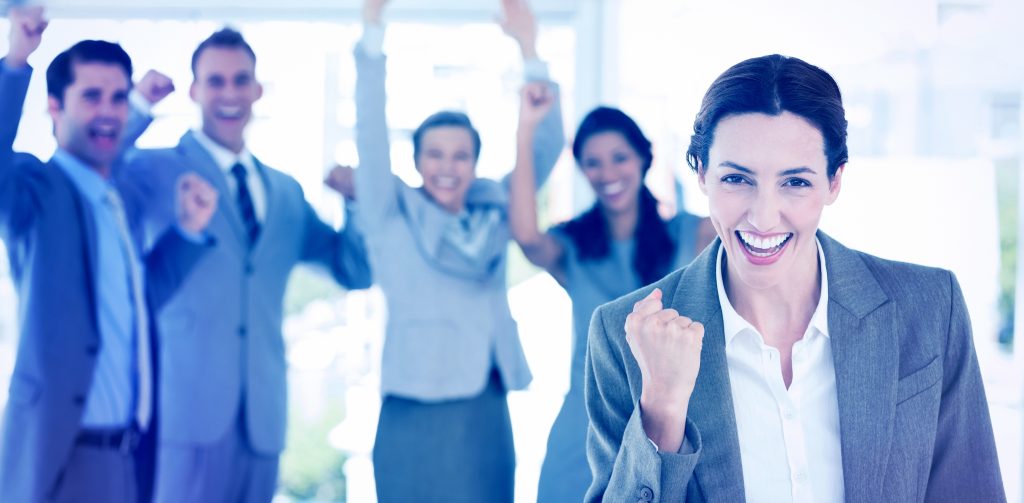 After the event finished, the COO applauded our staff in the green room. Looking at our robot presentation team, he said, "The contents were great. I've never seen a team this effective." He seemed to be quite pleased with our Pepper robot presentation approach method.
In Closing
In creating such a united performance, if you say it's really overdoing it, it's overdoing it. In reaching such a level, results of not simple cheers but massive ovations, feverish reactions across the board instead of simple laughter, the event's purpose and its parts beyond the event robot Pepper, such as the excitement of the visitors, and above all, the commitment of the other event representatives are all important. While we're not going to say that we're the only ones who can produce at this level, Seikatsu Kakumei's presentation and operation holds considerable popularity.
Perhaps you're looking to have a Pepper robot presentation at your party, trade show, international convention, or other presentation event. In that case, please be sure to contact us. We may be able to assist you with planning your hosted event.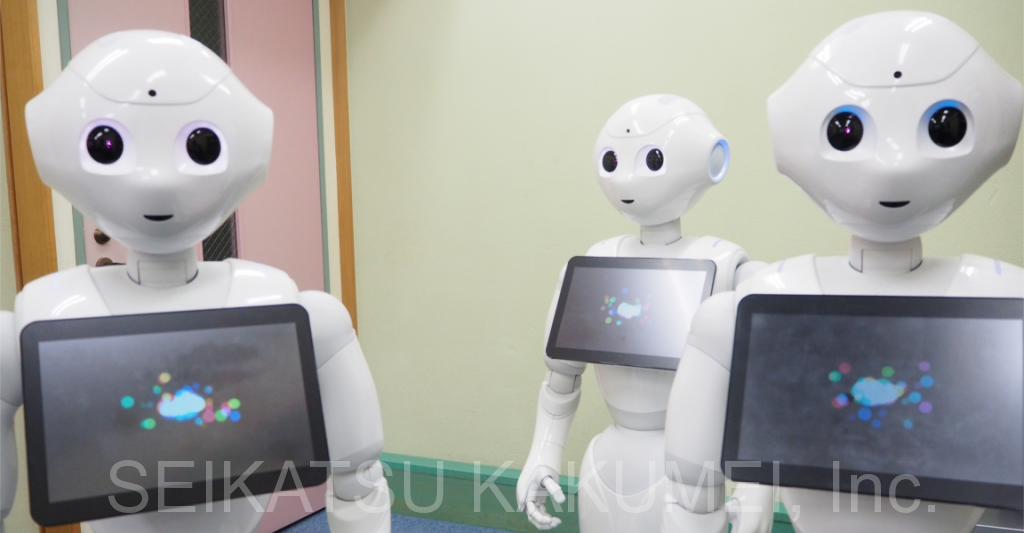 Event Summary