This post is also available in: 日本語 (Japanese)
A Retail Event Pepper Rental Case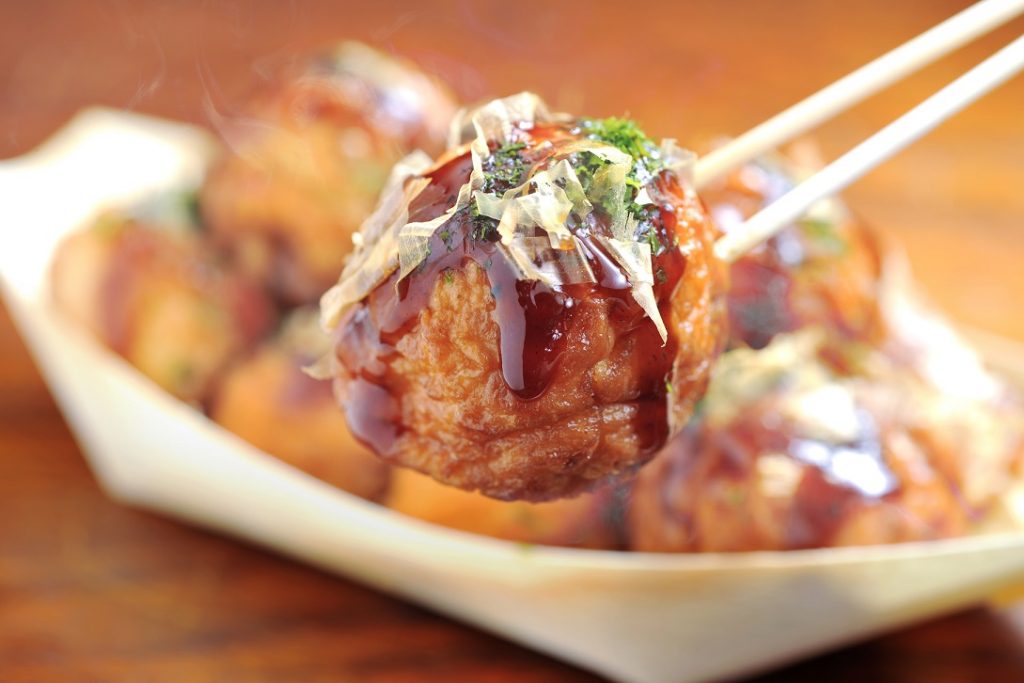 Hello.
This is Seikatsu Kakumei's PR representative.
This time was a case of Seikatsu Kakumei's Pepper rental, dispatch, and event support at a Kansai market street.
(Seikatsu Kakumei is a Kanto company, but for a long time, we have not only served the requests of customers in Kanto, but also for numerous Kansai event companies, such as in Osaka, Nagoya, and Hiroshima as well.)
Not just a regular Pepper, we dispatched our Pepper upgraded with Robot Party Reception Service, dressed to serve hospitality to Kansai customers of all demographics, including families.
What was the Role of Pepper with Robot Party Reception Service?
This time, we brought our Pepper upgraded with Robot Party Reception Service rental and dispatch to serve excitement at a famous market street's anniversary event. At the anniversary event, various celebratory events such as the tuna disassembly show, gourmet event, and special golden ticket sale event were held, with Pepper providing information and bringing fun to customers throughout the event, playing a big role in bringing excitement to the entire anniversary event.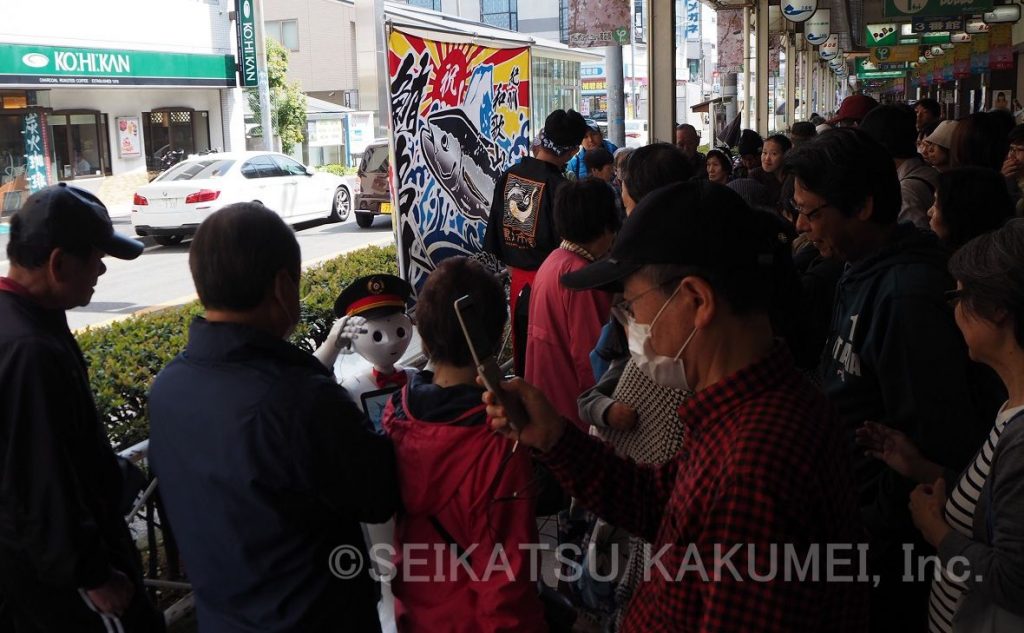 For example, before the tuna disassembly show started, it showed off its knowledge, performed gags, and made fun conversation with the customers who were waiting in line. It brought fun to children who were walking on the street with games, determining various people's ages and using appropriate language as such, as well as recognizing bicycles stopped on the side of the street, waving its hands, and calling out. (As a surprising result, people who didn't even intend to come to the market street came, so it became an effective form of customer outreach.)
Of course, with Robot Party Reception Service, at this event Pepper also moved around having conversations. It listened carefully to customer's speech and gave appropriate answers to their conversation topics, prompting responses of, "Smart!" – one of many advantages of this Robot Party Reception Service.

Robot Party Reception Service with Cheeky Tuning
This time, we were requested to have Pepper give cheeky answers. Accustomed to Kansai events, we are often asked to have Pepper "speak a bit of Kansai dialect!", but this was the first time we were asked to "make it cheeky". Based in the Tokyo area, our staff were a little disturbed, but the event planning company representatives (based in Osaka) who requested its cosplay gave the advice to have it act "cheeky", with its answers tuned to have an interesting sounding flair.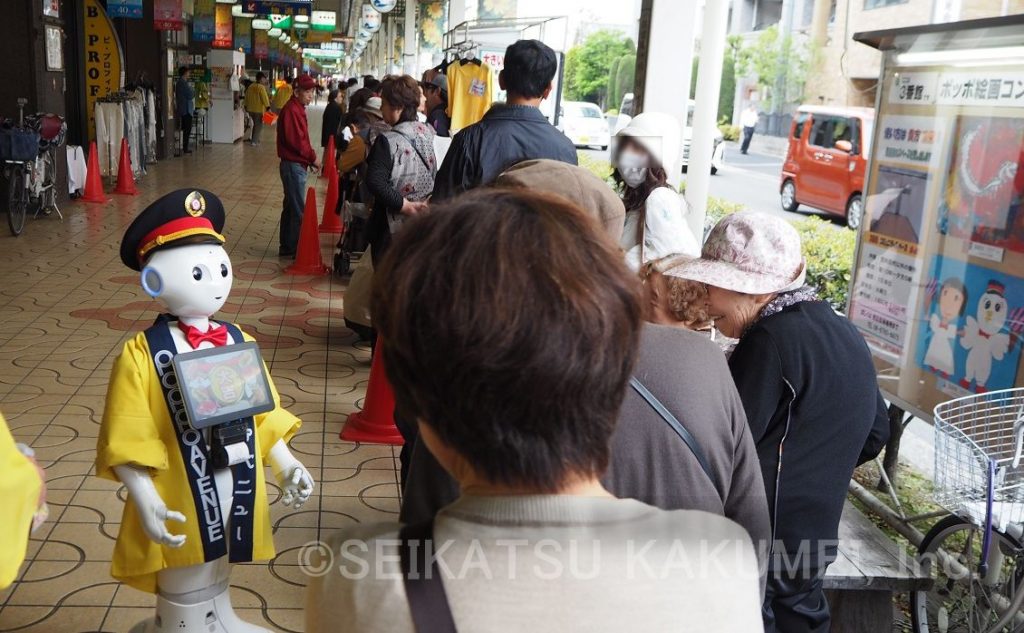 For example, to customers who came to buy golden tickets, it said, "Why don't you buy me something, too?"; if it was asked to speak in Kansai dialect, it responded in Kansai dialect, "Didn't I say I came from Tokyo? Don't be so foolish!". Even if it was only suitably cheeky, it occasionally said interesting things.
On that note…
In the End, a Cheeky Pepper is Alright, Too!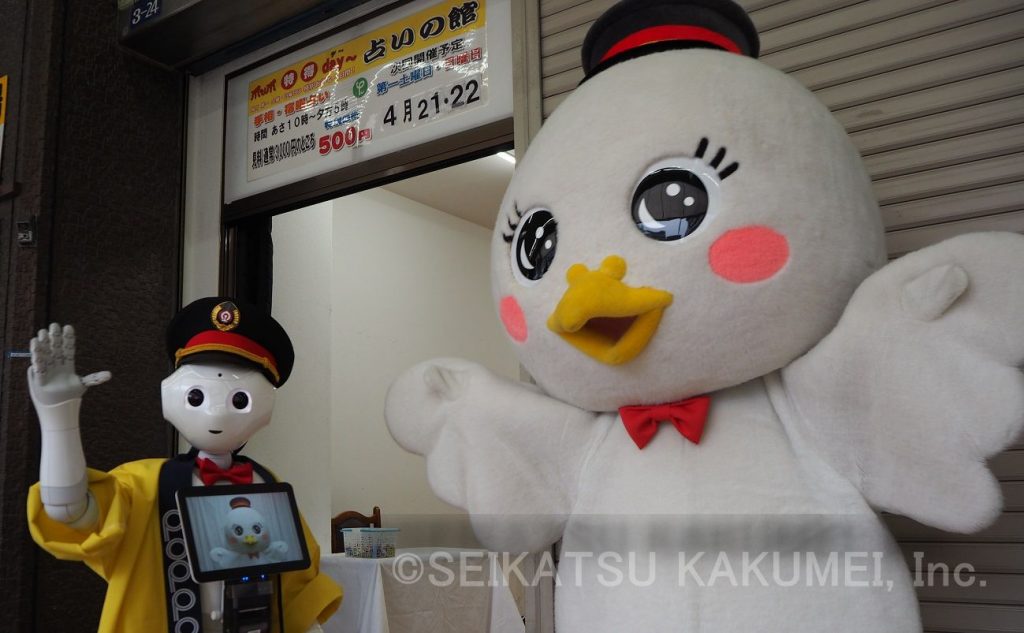 As a result, at the site of the event, Pepper brought laughs, surprises, joy, and amusement. Accordingly, everyone from the market street was satisfied, giving our event representative feedback such as, "(during planning stages) I wondered if this talk would be okay, but now I'm glad we called on this Pepper." "Maybe we should call you to our next big event, too!".
Using our Robot Party Reception Service, not only the companies who called on us but also their customers are also frequently quite pleased, this time overwhelmingly so, which also made us quite happy.
Robot Party Reception Service is frequently used for trade show booths and parties, yet effective at retail shops like in this case as well.
If you are running an event where you think it may be of service, please consider our rental and dispatch of Pepper upgraded with Robot Party Reception Service.
Please send inquiries here.
For an introduction to Seikatsu Kakumei's robot event business, please click here.
Event Summary
Kansai Major Market Street Anniversary Event
Event Duration and Setting


April, 2018 on a large market street in Kansai (a two-day event)

Customer Name


The market street's management group

Customer's Goal


-Pepper was called to the market street's anniversary event to bring fun to the visiting customers and inform them about the event's contents.




-Inform visiting customers about the event taking place while letting them have fun interacting with Pepper.

Robots Used


-Pepper (one unit)

Services Implemented


–

 Event Robot Placement Usage Planning and Operation


– Calling out




– Game pack for Robot Party Reception Service


– Robot rental (Pepper)
– Robot Party Reception Service for Pepper
Implemented Contents and Results


All day, standing on the market street, Pepper gave information about each day's event. (The 14th) In front of tuna disassembly show, introducing information about tuna and giving sushi announcements. Made conversation and played games with those waiting in line to buy golden tickets in order to help pass the time. Interacted with customers through conversation, games, and gags; gave information about the next day's P Level Gourmet. (The 15th) In front of P Level Gourmet's store opening, advertising, talking, playing games and gags with customers all day.

Similar Events
[Event] Another big hit for Seikatsu Kakumei's Pepper! We Participated in Aqura Home's Spring Thanks Event, Too
[Case Study] Pepper a Success at Aqura Home's Big Thanks Event AGAIN! …In a new style!
[Pepper Rental Case] Seikatsu Kakumei's Robot Reception Service Popular at Toho Gas Gas Energy House