This post is also available in: 日本語 (Japanese)
At Maker Faire Tokyo 2015 held at Tokyo Big Sight, 90-minute limited exhibition and trial of our new hit Pepper game "Pepper Boxing Beta" (which won at Hackathon the other day) was opened! (Or so it was planned, but in the end, a different booth spoke up, giving our showcase a total of 4 hours.)
Pepper strikes a boxing pose. The tablet screen is the start screen.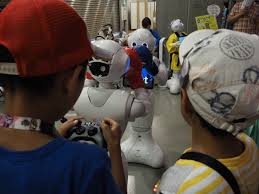 Since it's a beta this time. the game part is simple. With the game controller buttons, control red-gloved Pepper and fight blue-gloved Pepper. Earn points while unfolding Red Pepper's hook and straight moves, hitting Blue Pepper, and dodging; if you get 10 points, then you win the game.
(Actually, if you push the right R button, a special death blow…)
The speed at which Pepper deals a punch, the speed at which button presses are recognized…fun for children or adults, surprising many people.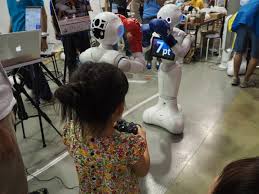 Even children can operate it with simplicity. On this day, numerous children ages 3 and 4 on up to adults tried it out.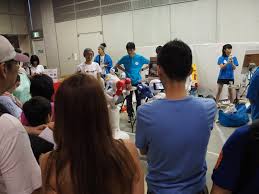 A crowd of spectators also formed to see how it feels to operate Pepper with a game controller, and were very pleased.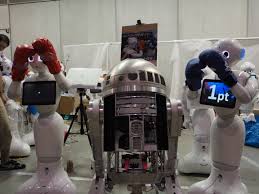 And, somehow, we were able to collaborate with R*D2!!
At Maker Faire, dreams become reality.
We were able to realize this with the cooperation of Inoue-san and other members from this R2 builder's club http://www.astromech.net (Japanese). Thank you very much!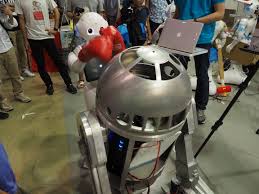 The results of the Pepper VS R*D2 fight can be seen on YouTube!
Pepper Boxing is still in beta stages, but it already seems popular with many customers.
We look forward to future versions and use in commercial facilities…we plan to offer it as a rental service.