This post is also available in: 日本語 (Japanese)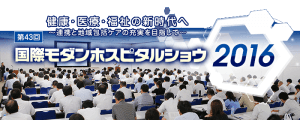 At the International Modern Hospital Show at Tokyo Big Sight, held from July 13th to 15th, Shanti Inc. opened a store in collaboration with technology developed by our company.
The new collaborative product of two companies, specializing in booking medical reservations, utilizes robots such as Pepper to exhibit medical products in a way that it is exciting to more than just medical personnel.
International Modern Hospital Show 2016 Exhibition
Venue: Tokyo Big Sight
Date and Time: July 13th, 14th, 15th
Location: East Hall 5, Medical Information System Zone Booth E-109
It seems the reception system using Seikatsu Kakumei's High Speed Customer Service System Version 1.5 (August 2015 version) will continue to be used in exhibitions!
Please be sure to come to the exhibition.