This post is also available in: 日本語 (Japanese)
In the August 3 issue of Nikkei News, an article has run about Aqura Home and our company Seikatsu Kakumei's collaboration "Pepper's Adoption in Housing Exhibition Model Homes"! Details are planned for later exhibition.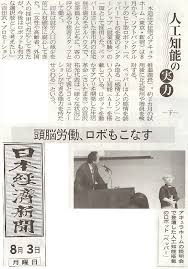 Our Company Seikatsu Kakumei's Role
In these efforts, our company's responsibilities include robot usage advising, Pepper software planning and development, and Pepper's installation and maintenance in model housing.
Project Continuation
From the start, we listened to Aqura Home's management concerns and business tasks, and discussed forms of Pepper use. Ultimately (from the standpoint of Aqura Home), use of Pepper in model homes is the optimal conclusion in carrying these efforts. At Aqura Home, diversity is respected in employment, with women, the elderly, and foreign people being accepted progressively. Robots are expected to become the fourth pillar of that, with our company making significant efforts.
First Model Housing Adoption Efforts
New points that differ from previous housing exhibition installations up until now include, "adoption not just for several days, but for several months or more" and, "placing Pepper in a housing exhibition doesn't only attract customers, Pepper has become a part of the housing exhibition business".
In short, the positioning of robot "employment" in the model house business has led to very ambitious efforts.
For the first time, there is one planned adoption in a Saitama Prefecture housing exhibition, so if you are in the area, wouldn't it be nice to stop by?