This post is also available in: 日本語 (Japanese)
At a Housing Exhibition, Pepper Welcomes!!
~A First in the Country, Robot Hub Function is Used to Provide Housing Information!~
■About Pepper
Pepper, sold by SoftBank Mobile, is the world's first emotion recognition humanoid robot. Released for sale since September of 2014, its distinctive character and lovability has made it a familiar robot, even making appearances such as on TV Tokyo series "Ohasuta 645". This Pepper, appearing at a housing exposition, has become a big topic with its main target of families.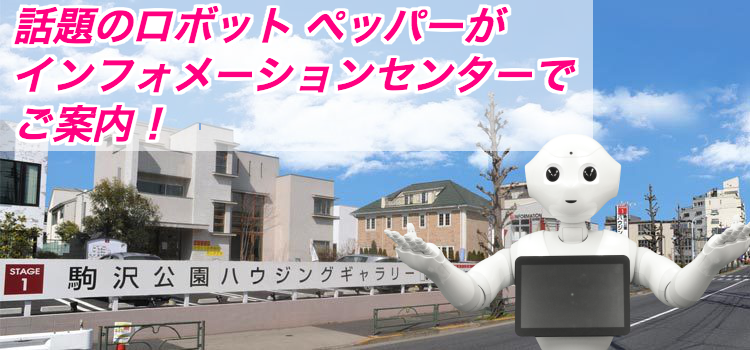 ■The Surrounding Environment of Housing Exposition Robot Usage 
The government has delivered new robot strategies in January 2015. In that, Japan has set becoming the world's base of robotics and innovation, realizing the world's top robot use companies, and leading the world with IoT-age robots as three goals. Particularly, in the service industry, improvement of worker productivity and offering new added value are becoming a topic worthy of national interest.
On the other hand, the housing industry grasps the needs for quality improvement by directly facing a large number of housing users, with continuous responses: aiming for energy conversation, zero-emission measures, and the diversification of residential needs, such as the new construction market's presently saturated condition, strengthening measures aiming to add value and reduce costs. As an example, housing makers have shown aspirations toward "the introduction of service robots to our business system". The aims are client sales improvement, rationalization and standardization of routine tasks. Many housing makers, anticipating a long-term lack of talent in housing sales, are exploring robot usage for the substitution of routine work, and robot usage methods.
■ Riders Publicity's Pepper Usage Plans and Goals
Major nationwide housing exposition company Riders Publicity is, following this trend of labor-saving routine guidance, providing information in a way that is fun and impactful for visitors through Pepper permanent introduction planning and development of Pepper-use information software. Pepper works as topic creator and customer outreach tool, skilled in providing an abundance of accurate information, offering to make the features and merits of house makers easy to understand and aiming for an increase in customer outreach. Also, not limited to house maker information, it has also become possible for Pepper to provide information about general housing information trends. In the first introduction, Pepper is responsible for information center event announcements, facility information, and additionally, collecting information about the needs of visitors. Starting October 3rd, expansion of the scope of business introduction is planned; introduction to other nationwide housing exhibitions is in planning stages.
The range of business content and advertisement information covered by Pepper in regards to multiple house makers is being developed by Seikatsu Kakumei, LLC., which holds a track record in Pepper permanent adoption, introduction, and Pepper-use software development.  Riders Publicity's nationwide housing exhibition knowhow and experience, combined with this company's knowhow and experience, adapted Pepper-use information software to the needs of the housing exhibition and its visitors, effectively and quickly to the market.
■Overview of Scheduled Pepper Exhibition
Housing Exposition Name: Komazawa Park Housing Gallery
URL                               : http://www.e-a-site.com/showrooms/detail/64
Location                         : 5-10 Komazawa, Setagaya 〒154-0012
Pepper's Appearance       :from Saturday, October 3, 2015
■Riders Publicity, Inc. Corporate Information
Company Name     :Riders Publicity, Inc.
Location                :1-9 Kioicho, Chiyoda-ku, Tokyo
Representative       :CEO Masa Matsuzaki
Founded                :December 4, 1965
URL                       : http//www.riders.co.jp
http://www.e-a-site.com/showrooms/detail/64
■Seikatsu Kakumei, LLC. Corporate Information
Company Name   :Seikatsu Kakumei, LLC.
Representative     :CEO Yuko Miyazawa
Location              :2-3-2 Kami-Ochiai, Chuo-ku, Saitama City, Saitama Prefecture 〒338-0001
Founded              : May 2014
URL                    : //www.seikaku.co.jp/
https://www.facebook.com/saypepper
Seikatsu Kakumei, LLC.
Public Relations
TEL: +81 050-3594-7050  FAX:048-610-8964
*The information in this release is current as of its release date. Please be aware that it may be subject to change without notice.