This post is also available in: 日本語 (Japanese)
Humanoid Robot Pepper Interlocks with Big Screen Display
Information System for Children, Parents, and Grandparents March 1 Nationwide Release
~From year-end gift promotions to examination well-wishing~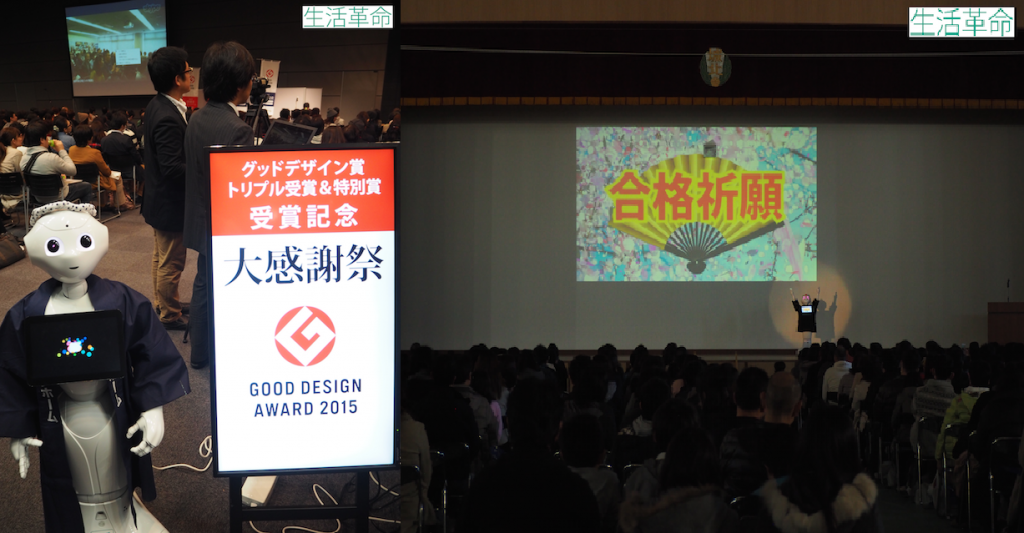 Seikatsu Kakumei Ltd. (Headquarters: Saitama City, Saitama Prefecture, CEO: Yuukou Miyazawa, below as Seikatsu Kakumei) on Tuesday, March 1, 2016, has released for nationwide sale an information transmission system in which humanoid robot Pepper and a large screen display interlock. With this system, the problem of the tablet screen attached to Pepper's chest being "difficult to use for children and the elderly" is solved. "Easier to see, easier to convey visual information" has been made possible. Partial use began in November 2015 in Saitama Prefecture. With efficacy confirmed, usage is being expanded nationwide. Emphasizing communication for three generation families at restaurants, retail stores, housing makers, etc, the aim is to contribute to the improvement of consumer purchasing activities.
■Information distribution background of system development (news and issues)
Seikatsu Kakumei continuously puts a special attention on accuracy, objectivity, and advancement using Pepper as a promotion tool, and has pioneered dozens of cases of utilization. In practice, Pepper is popular with a wide range ranging from children to the elderly, connecting businesses and groups with customers as a proven means of effective information transmission.
On the other hand, for the elderly and children, there are problems such as
・Pepper's tablet screen is "too small and difficult to see"
・"It faces at an upwards angle, so it only sees adults"
・"It's difficult to understand how to use"
causing certain difficulties in distributing information in an easily conveyed form. The weak points of information distribution to three-generation families have been considered.
■Advantages of information distribution system
・A system where Pepper is interlocked with a large display
While taking advantage of the lovableness of Pepper's human shape, body language and hand gestures, conversation technology and such, a big screen display is used to convey information using images and sound.
・Pepper acts in synchronization with the timing of displayed images and sounds
By talking and using body language and hand gestures, company and group messages can be conveyed.
・The display also connects with TVs and giant projectors
This application is not only for retail stores, but also for various uses such as on stage.
(Example: Mr. Naka of Jouhoku Saitama (below) )
■Previous Achievements
[General Department Store: Maruhiro Department Store]
・ This system was used at an end-of-year gift sales promotion. With merchandise appearing on a big screen display along with appealing images of year-end gift goods, Pepper gave product explanations at Maruhiro Department Store with three-generation families as the primary target, gaining popularity with elderly couple customers.
[School Organization: Jouhoku Saitama Middle School and High School]
・ At an entrance examination information fair, Pepper, in connection with a projector, cheered on the success of examinees. Synchronizing projected images of falling sakura blossoms with the timing of images and sound, Pepper successfully showcased a dance of prayer (3-3-7 rhythm). (Video: https://youtu.be/-mzKAdD_bjE ) Applications for the exams saw a 30% increase. (As of January 10, 2016)
■Future Expansion
Starting with graduation and school entrance ceremonies, Golden Week, summer vacation, and so on, in response to the growing consumption demand of three generation families, we are proceeding with promotions for new school year and new school semester events at retail stores, product introductions at toy stores, leisure events and similar types of activities.
As an opportunity, we are preparing this service, originating in Saitama, for nationwide deployment.
Seikatsu Kakumei President Yuukou Miyazawa's Words
"Through Pepper event operation and retail store use, I feel that there will be an especially high volume of three generation family visits, where grabbing the hearts of the whole family will become of greater and greater importance. Using this system, even in the middle of birthrate decline and an aging population, businesses and groups can deeply transmit signals to their customers; we anticipate the relationships between businesses and groups and their customers to improve significantly."
■Seikatsu Kakumei, LLC. Company Overview
Seikatsu Kakumei is a smart device software company that advocates "enhancing humanity and robotics", from robot software for Pepper, operation and product issues of businesses using Pepper, aforementioned worldwide proposals of Pepper usage methods, to offering planning, development, and local operation with a good business reputation.
The first business in Japan to pioneer Pepper robot solution development with many case examples, we have been profiled many times on TV, in newspapers, etc. In December of 2015, in the "Fuji Sankei Business-i Innovative Business Award 2015", we were the only robot company to receive a finalist award.
President Miyazawa established this company after gaining experience in planning and development for the iMode platform, as well as Android and iPhone introduction, improvement, robot, IoT strategy planning, etc. at NTT Docomo, Inc. As he experiences converting new technology to business, he aims to contribute to the stable development of robot and human companies.
Company name  : Seikatsu Kakumei, LLC.
Representative   : President Yuukou Miyazawa
Location            : Shintoshin Business Kouryuu Plaza 5F, Kamiochiai 2-3-2, Chuo, Saitama(A 5 minute walk from Saitama Shintoshin)
Date founded     : May 2014
Focus of Work    : Planning, development, and provision for smart device internet services
Capital               : 4,500,000 yen
URL                   : http://www.seikaku.co.jp/
Seikatsu Kakumei is, after satisfying and exceeding the standards of knowledge and technology levels of a practical skills and written examination in Pepper application development, certified as a Robot Application Partner(Basic) in SoftBank Robotics Inc's Pepper Partner Program.
Certification ID:PPP201508016
For more about the Pepper Partner Program,
http://www.softbank.jp/robot/developer/program/partner/ (Japanese)
Pepper Robot Appli is a trademark of SoftBank Robotics.
*The information contained in this release is correct as of the date of original publication and may be subject to change without warning.