This post is also available in: 日本語 (Japanese)
About our robot enhancement service for Pepper
In the November 16, 2017 issue of the Nihon Keizai Shimbun, there is an article featuring our company's event-focused Pepper robot enhancement service Robot Party Reception Service.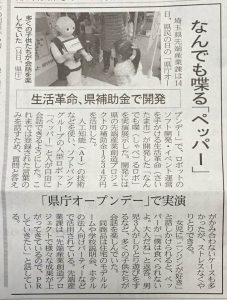 Backed by the Saitama prefectural government, this Pepper service with boosted conversational and control abilities is known as "the robot that can say anything". We have coverage, including from the Saitama Prefecture's Citizens' Day Event.
Even the Nikkei Shimbun's writers were surprised by this service, which is currently offered for temporary events ranging from trade show booths to reception parties to customer outreach events. We have heard feedback from satisfied voices all across the country. (Consultations for permanent installations are not currently accepted as our planned number has been reached. For inquiries about the start of any additional sales, please contact us.)
Please view the article on the Nihon Keizai Shimbun's website (Japanese):
https://www.nikkei.com/article/DGXMZO23469690U7A111C1L72000/
Our "robot that can say anything" hasn't only taken the Nikkei writers by surprise – event companions have been shocked and delighted by it, too! We hope to continue a good relationship with everyone.
(We have already announced further additional functional evolutions for our customers.)