This post is also available in: 日本語 (Japanese)
An introduction to Seikatsu Kakumei's robot business.
Pepper event rentals attract customers!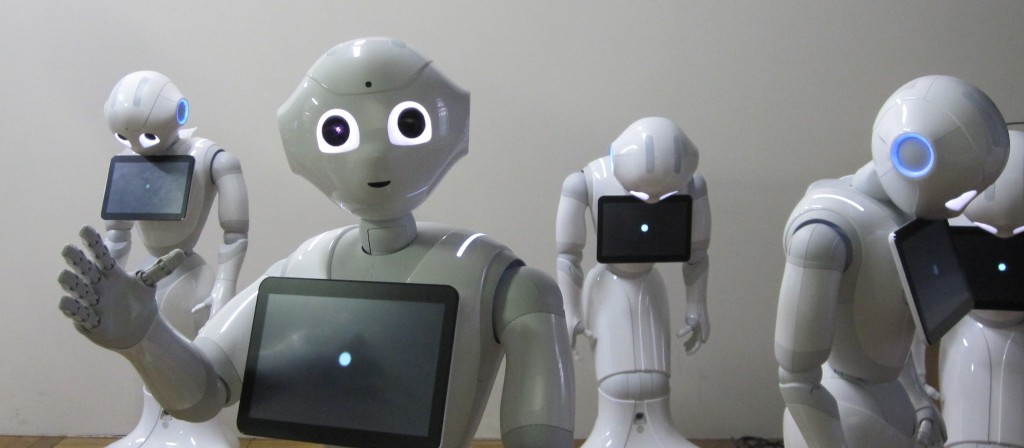 Popular on TV, the new hit robot Pepper
In development since November 2014, the personal robot Pepper that can read human emotions has been gaining recognition. From food commercials to children's hit TV shows, Pepper has gained considerable media popularity.
Following this trend, Pepper application development and rental use has been growing day by day for use in corporate services ranging from promotions and growing customers to giving presentations.
Seikatsu Kakumei's Breakthroughs in Corporate Rental and Application Development
 In February 2015, Seikatsu Kakumei was the first to begin offering commercial rental and application development services for Pepper. By one year later, the company had served clients in industries ranging from major ad agencies to service, education, and medical, meeting their Pepper needs ranging from trade show events, promotional and customer growing events, new item presentations, and more. In doing so, we became the first in Japan to produce multiple development case studies.
At Seikatsu Kakumei, through our experience working with clients across numerous industries, we have realized an intelligent Pepper that provides strong performance.
Services that were once limited to metropolitan areas are now available nationwide. We have accepted orders from customers in places ranging from Niigata to Okayama to Hiroshima, as well as many places in between.
Why Experience is Essential
Pepper isn't only a matter of software technology. The service also combines the ability to deliver a fun robot performance with reliable administrative power for events. At our company, we use the combination of knowledge and experience across wide-ranging industries to create a total solution.
As for our results, we have achieved customer satisfaction, built trust, and received numerous referrals and repeat customers. For that reason, we are able to continue to make even further achievements. With over 80% of our clients coming back to us for further business, we look forward to our cooperation growing.
What Pepper can do…

Many customers have wondered, "Of course Pepper is interesting, but what is it used for?", only to become users after consulting with us.

Presentation
Growing in popularity for use at trade shows and customer-oriented events is our Pepper-delivered presentation service. We filter messages in advance to ensure that key words are able to stick in customers' minds. For a company where employees are not well-trained in presenting, this service can make a big difference in reputation.
As the first business in Japan to offer Pepper presentations, Seikatsu Kakumei is experienced in working with banks, prefectural offices, private schools, and customer-oriented events that have zero tolerance for failure.
While Pepper has a reputation for being unreliable, our company's Pepper presentations put a halt to this concern. We have eliminated sudden stops and strange movements. By surpassing unease, we have become the top choice for conveying result-oriented messages to customers through our robot presentation technology and operational know-how. We have earned the loyalty of customers who place importance on stable, reliable performance.
Customer Outreach
A standard example of Pepper use is in customer outreach. Whether in a storefront or event booth, it effectively attracts customers. Its appearance draws the attention of even children with no prior knowledge, so it draws in customers just by virtue of standing on display.
At Seikatsu Kakumei, we have developed our experience through many repeat clients who have used our Pepper to attract customers. Using our expertise, we have raised Pepper's customer outreach capabilities by developing software to increase acceptance of our clients' messages.
For example, if a Pepper is placed to call out to customers and just says the same things over and over, or talks about topics completely unrelated to the company, it can become inappropriate. With our company's software, Pepper can differentiate between faraway and nearby customers, recognize separate conversations, and be programmed to only discuss topics related to the company. This technology debuted over half of a year ago and is now even more capable, creating lines. Surveys have proven its ability to deliver effective communication and ensure the right key words stick in the minds of consumers. Our technological expertise delivers verifiable results.



Reception
Sets up a positive atmosphere and brings out smiles from everyone.
Event
Entertains children, too!
Since Fall of 2017, we are experiencing rapid growth. Consult us quickly!
Feel free to contact us with any questions or consultation requests.
Contact Us